Glacier glass panel balcony railing achieves a high-end upscale look. As a result, it is ideal for custom homes and luxury interior spaces.
Designing a unique stair railing system with a custom layout is an appealing project to undertake. However, sometimes, it isn't easy to know where to start. When so many railing options are available, there are a lot of decisions to make.
A staircase design can make or break the success of a construction project. If you get it right, you will have a beautiful railing system that elevates the entire property. Alternatively, if you slightly miss the mark, it's a problem that's tough to resolve. Therefore immersing yourself in staircase style and exploring railing ideas is a great way to discover the limitless possibilities.
Wood Land Home Solution Showcase | Interior Glass Railing
The featured project is a waterfront residential home located in kathmandu . It's a stunning property with an elegant Glacier glass / panel railing system. A modern railing is especially appropriate for a stairway and balcony railing design that overlooks a water view. To see beautiful glass panel railing images, read on. We're going to take you on a whistles top tour of the property and highlight our favorite glass railing system pictures for you!
Modern Balcony Glass Railing The interior glass balcony overlooks a stunning double-height room that leads to a waterfront patio. The transparent railing system coupled with the large windows means that the glorious view remains beautifully unobstructed. Glacier glass railing infill is the ultimate in elegance, and tempered glass railing suits almost any architectural style. Adding to the aesthetic, the neutral tones of the stainless steel railing posts complete the upscale look. Together, the stainless steel and glass balcony give the residence a thoroughly desirable modern appeal.
Timeless Mezzanine Glass Railing Often featured in custom-built homes, a mezzanine is a type of balcony designed for the interior of a building. Mezzanines are popular in luxury settings and commercial buildings because they allow a clear, unobstructed view. While researching modern balcony railing ideas or top interior design trends, you might notice one timeless classic design style. Incorporating contrast into your design theme is a safe idea that never goes out of style. If you're committed to a modern white interior, consider installing a glass railing system with an elegant black handrail. Doing so will create a bold design statement.
Contemporary Glass Staircase Style If you want your project to stand out, it's a good idea to focus on architectural design details. For example, this home has beautiful windows, doors, and an elegant glass staircase. The architect chose materials and products that create a strong design theme. Consequently, the high-end, top-quality furnishings create a stylish, cohesive look.Glacier is a modern architectural glass railing that looks great in commercial and residential settings. Wood Land Home Solution interior stair glass railing is custom-built and designed to fit any stair layout. Therefore, it's a great glass railing system for interior stairs that are especially wide. Or in contrast, where the space and design may be limited, such as dog-leg and switchback stair layouts.
For ideas about getting started or building a stair railing, please visit:
Glass Railing Handrails and Accessories The difference is in the details. Therefore, it helps to consider how the combination of railing options impacts the railings' overall appearance. Once you have chosen an infill, next, select the handrail. In this instance, the home features a timeless modern stainless steel handrail which complements the design aesthetic. Many people choose to match the rail to the wood flooring, creating a coordinated design theme. Whether round or flat, a modern stainless steel handrail creates a classic look. It's essential to consider the quality of the materials and how they might look and feel as you use the handrail while traversing the stairs. It's always advisable to ask for a sample from your railing manufacturer. Comparing and contrasting the quality of railing materials is a good idea because pictures can be deceptive. For example, aluminum has a cheap feel compared to stainless steel.
Luxury Railing Finishes
For an upscale appearance, consider the railing system's finish. Black powder coat railings are both modern and traditional, which makes them a classic design choice. Whereas a mirror finish is uncommon, smart shiny mirrored railing posts can achieve an opulent aesthetic perfect for a lavish environment. To see examples of mirror and powder coat railing systems, please visit the following blogs.
Railing System Mount Methods
Although often overlooked, the railing mount method also contributes to the overall look. Top mount railing posts allude to tradition, whereas side mounts are much more modern. To see pictures of the different railing mount methods, please visit the following pages.
Modern Railing Infill Alternatives
Railing on staircases vary from contemporary cool to traditional chic, so take some time to explore all the options. After all, you want to be confident in your choices and get a look that's perfect for you!
Exterior Glass Railing Systems
Glacier is also suitable as an exterior glass railing system. When a home has a stunning view, a glass deck railing is a perfect option.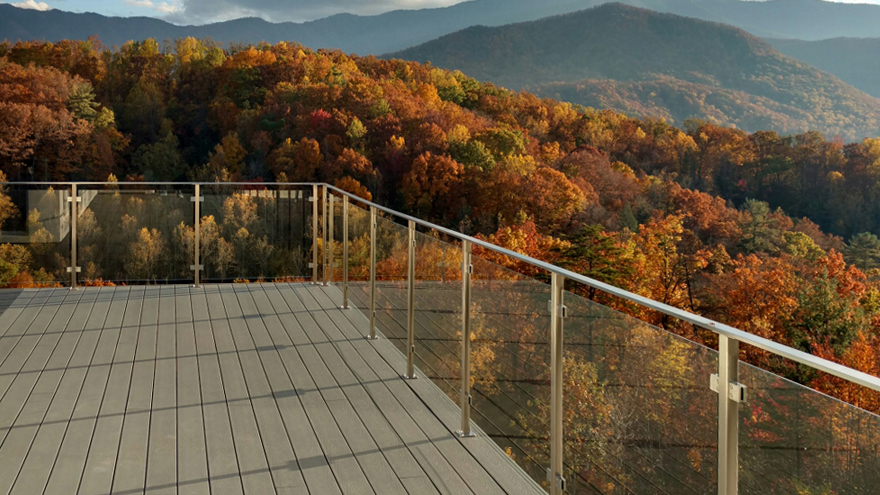 Exterior glass railing for decks allows excellent views of the surrounding landscape.